The Perfect Wedding Party Rentals [Infographic]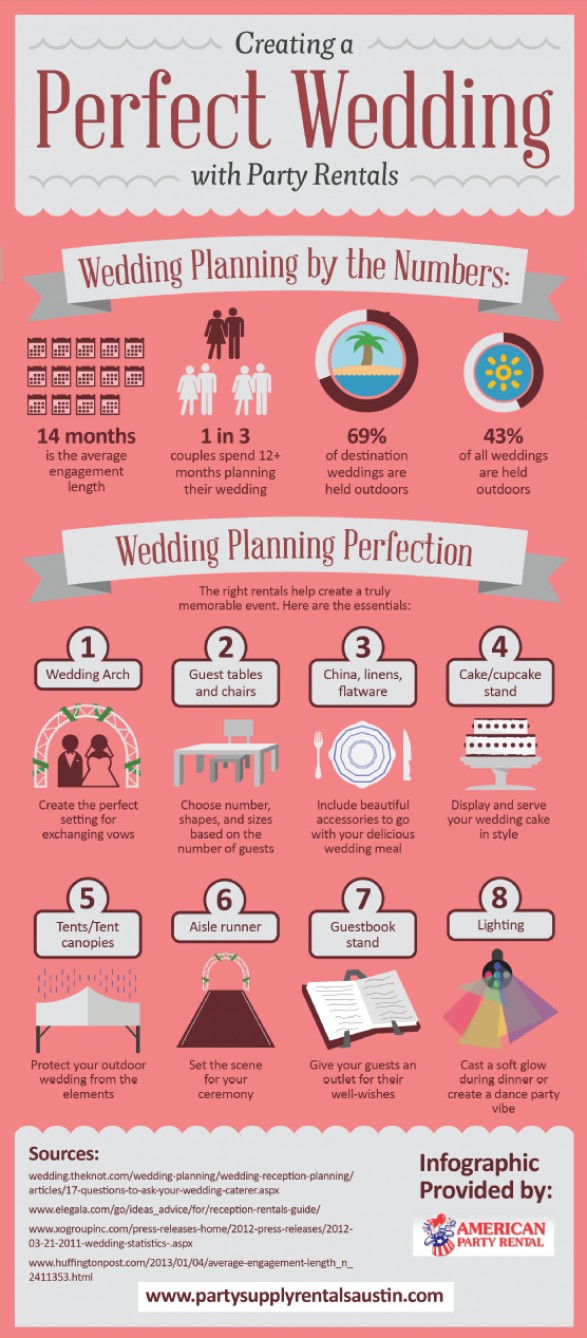 There are many elements that all come together to create a perfect event. No detail is wasted, no matter how small - especially at a wedding. Your wedding is a chance for you to hold an extravagant event for all your closest friends and family. There will certainly be other events you'll cater to throughout your life, but none as detailed as your wedding day. If you're planning a wedding now, or are expecting to in the future, it's important to know what kind of rentals you'll be investing in. Here are items that will fully enhance certain elements of your wedding day that you should be sure to consider:
Fine china -While some may think a plate is just something for your food to sit on, they are much more than just a seat for your meat. Chefs spend a lot of time deciding on the perfect plating and cutlery to present their masterful culinary creations on. The plates are essentially the canvas for their masterpieces. By investing in renting fine china and flatware, you're going to take your guests' dining experience to the next level.
Chairs and Furniture - To go with the dining experience, not only should you consider what you're putting in front of your guests, but what you're putting underneath them! The chairs and other furniture you rent are extremely important. There is, of course, the comfort factor; your guests are going to be sitting for an extended timeframe. The look is also important; you want your guests to feel like they're in a classy environment. The furniture is going to help create that atmosphere for you.
Lighting - To take the ambiance of your event up a notch, lighting is a necessity. Nothing sets the mood like lighting. It has the ability to transform the mood of any environment from a bright and uptight one, to a dark and intimate one.
Tents -We know all too well how important it is to rent a tent for any events. They're so versatile. Whether you're planning an outdoor wedding, or want to create your own custom event venue with an enclosed double-decker tent, it's no secret, tents have the ability to create an atmosphere for your event that your guests may have never seen before.
Even the smallest details go a long way when your wedding comes together. It doesn't matter if you're choosing your silverware or your venue, it's important to consider the big picture. Taking each aspect of the event and watching it all come seemlessly together to make the event a true and memorable success is a fun and rewarding experience for all involved! Happy wedding and event planning!
Explore more infographics like this one on the web's largest information design community - Visually.