Hank Parker's Creates an Above Water Wedding Reception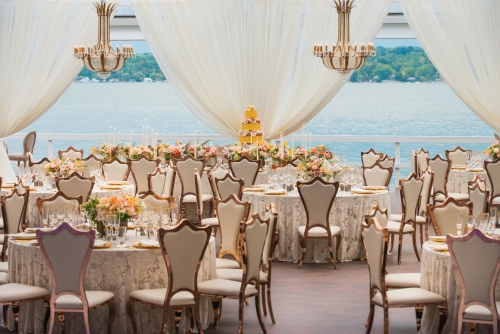 Recently featured in In Tents magazine, Hank Parker's Party & Tent Rentals was able to ensure that a Rochester family's second daughter had the wedding of her dreams this past September - even though her lakeside reception site seemed short on space. When searching for a way to accommodate 250 guests at a dreamy site surrounded by trees and water, an innovative solution was developed to extend a patio over the lake. This extra space provided plenty of room for dinner and dancing so the happy couple could celebrate their special day in style!
How did Hank Parker's manage this feat?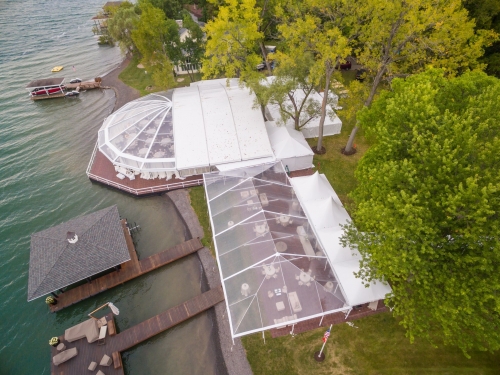 With a crane, ballast concrete and a 25-meter Losberger Apse Arcum structure that was extended 20 feet into the water.
Not only did this solution provide wedding guests with more than enough space to enjoy the magical evening, but it also created an absolutely incredible view of scenic Canandaigua Lake. Seated at lace covered tables, guests dined beneath crystal chandeliers and the evening stars while looking out at the beautiful, blue expanse of the lake. With a Brazilian walnut floor, a stunning white dance floor, twinkling trees and gold décor, the reception looked like something out of a fairytale.
Along with the reception patio, Hank Parker's also created a clear top ceremony tent, a cocktail area, and tents for catering, restrooms and more while working in conjunction with Celebrated Events, Kracke Photography, Arena's Florist, Tony Ormond & Wegman's Catering of Rochester, New York.
From weddings to corporate events and sports games, All Season & Hank Parker's Party & Tent Rental offers an extensive collection of tents, tables, chairs, tableware and more in Buffalo and Rochester, New York. To learn more, visit us online or call us at 866-604-2629.
---
Hank Parker's Celebrates the Wedding of Mr. and Mrs. Ryan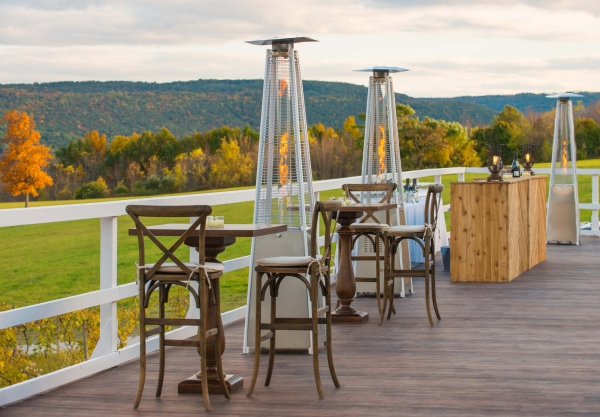 Married at Miller Nurseries on Canandaigua Lake, Lauren Sands and James Ryan III hosted an intimate and enchanting fall wedding. Featured on The Knot, the couple's big day appeared like a scene out of a fairy tale. Here at Hank Parker Party & Tent Rentals we are excited to say that we were able to help make the couple's dream wedding a reality.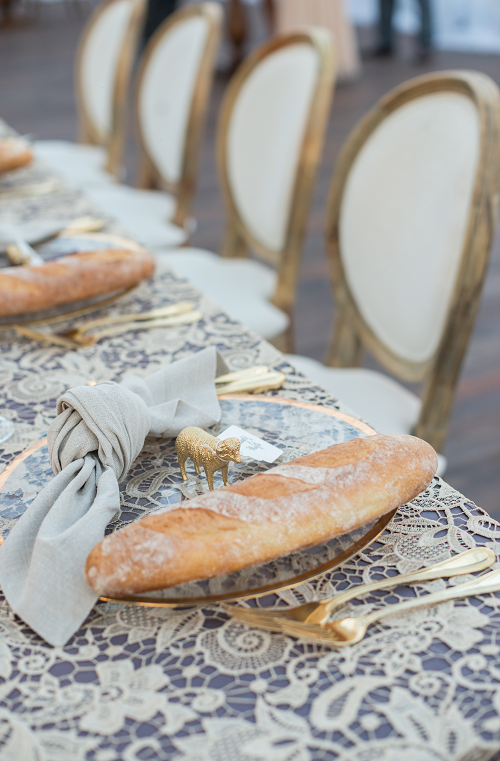 After an outdoor ceremony held beneath a whimsical arch, the guests headed across the nursery to a reception held beneath a clearspan clear top tent, where they could take in the beauty of the stars and sky as they dined and dance with the newlyweds. From the rustic wood flooring and balcony to the romantic hanging lights and candles, we were able to create a dreamlike backdrop to accent the bride's ethereal image.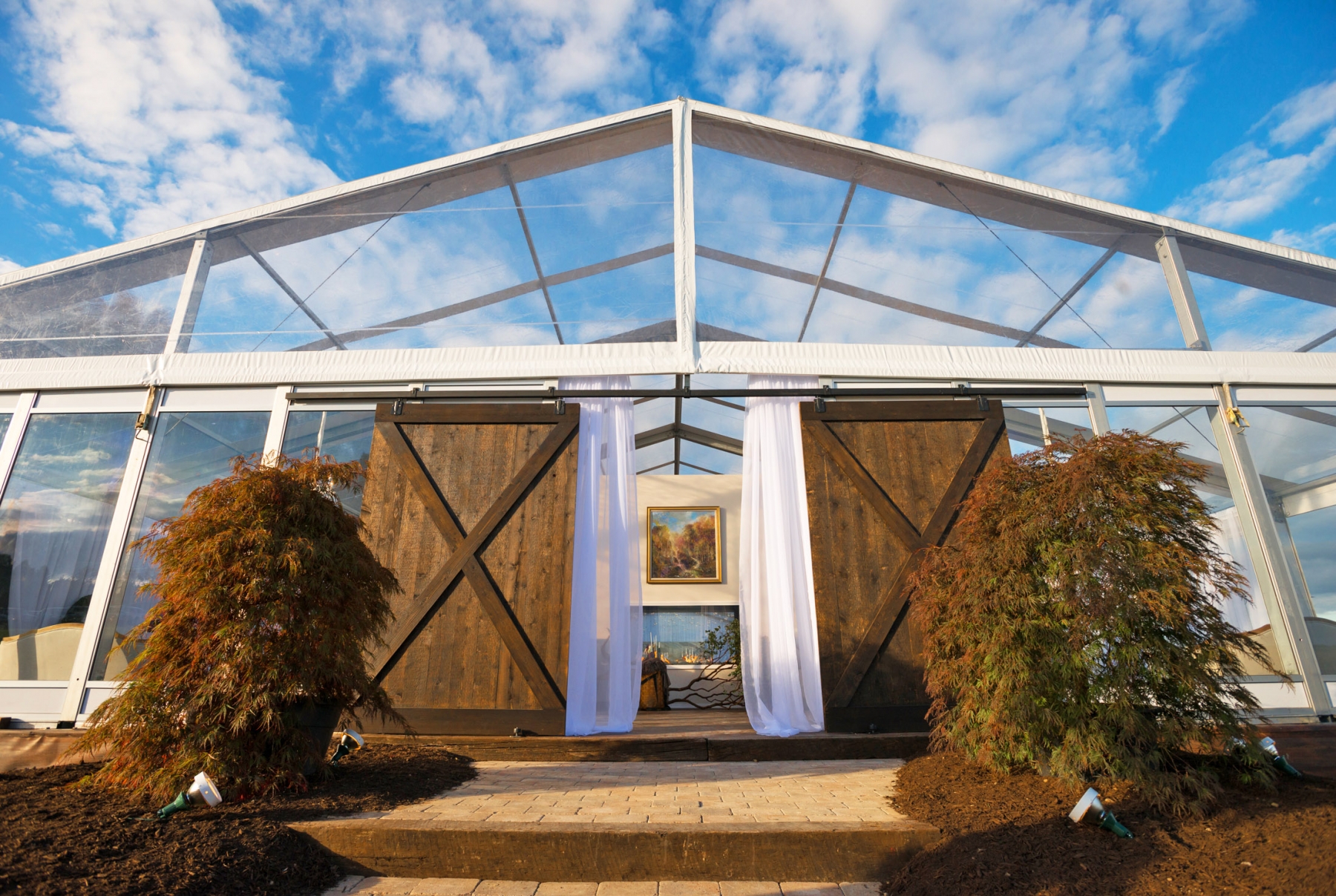 Guests entered through two large barn doors into a garden featuring a custom built fireplace by Hank Parker's and eclectic artwork. All fifteen tables were accented with glass tableware and tiny gold animal figurines to mark the seats. Draping was hung and heaters were provided on the balcony to create a cozy and amorous atmosphere around the outdoor bar.
Congratulations to the new Mr. and Mrs. Ryan and thank you for choosing Hank Parker Party & Tent Rentals to help make your fantasy a reality!
---
Hank Parker's Is The Tent Provider Of The Buffalo Bills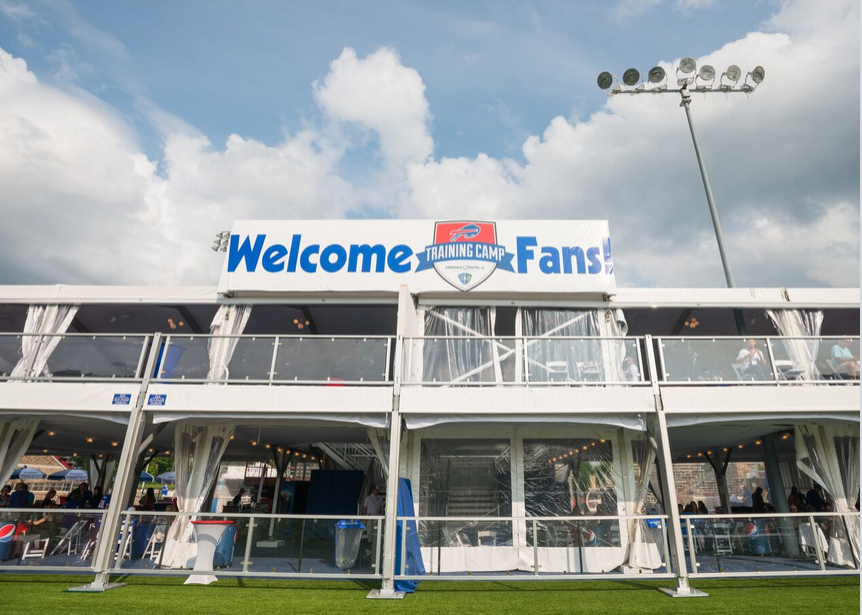 Feel The Rush. That's the 2015 slogan for the Buffalo Bills, and after all of their off-season moves, who among us was not excited for training camp and the season to start?
Although it's easy to feel the adrenaline rush percolating through the stands at training camp, it also doesn't take long to feel the weather conditions. Whether it's the sticky heat or a downpour of rain showers, having a tent conveniently nearby is must for large outdoor events in the summer.
Hank Parker's Party & Tent Rentals is proud to be the official tent provider of the Buffalo Bills. As part of our partnership with the Bills, we provide tents at their training camp site at St. John Fisher, including our expansive, state-of-the-art, double-decker tent that has provided multitudes of camp goers with a place to cool down away from the hot sun, and a place to stay dry when rain showers escape from the clouds. For more information about our partnership with the team, please check out this video at their website.
Our two-story tent is located alongside the field and is broken down into three quadrants to best serve the Bills' needs. One area is set aside for corporate partners and features a buffet downstairs and a viewing area with wonderful vantage points upstairs.
The second area is for family and friends of the Buffalo Bills while the third section is the community relationship area for the team. Each section has a viewing area upstairs and downstairs, and brings guests close to the action.
In addition, we also provide the spacious merchandise tent that visitors pass through on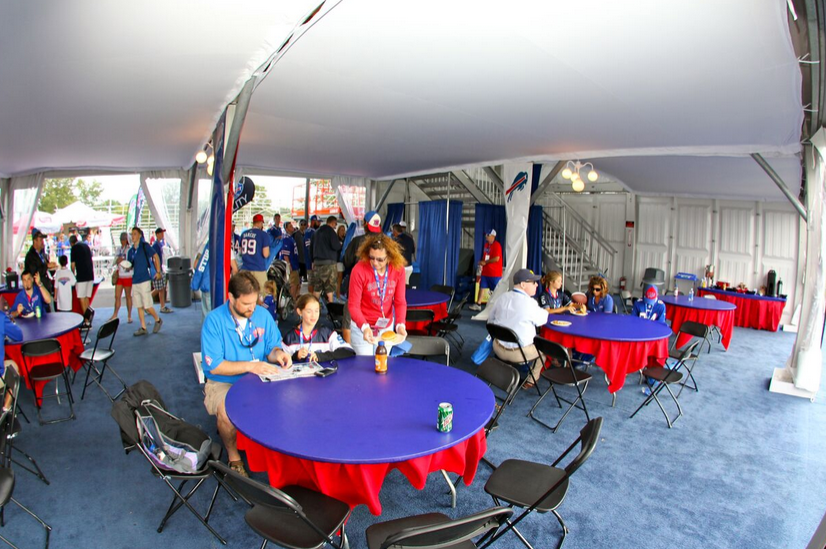 their way to watch practice and scrimmages, as well as the kid's area tent that is home to bounce houses and other exciting games for young fans to enjoy. Remember, we can provide your next outdoor event with the same tents (or smaller ones) that we showcase each year at St. John Fisher.
St. John Fisher and the Buffalo Bills do an unbelievable job of organizing training camp and making it as fan friendly as possible. Numerous national football writers have remarked that Fisher is one of their favorite stops on the training camp trail, and it's easy to see why.
Especially this year. Can't you feel the rush?
---
Meet The Party Queen, Your Personal Party Planning Pro!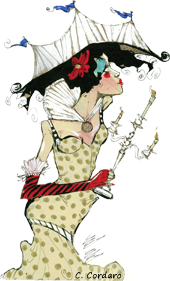 Hey, readers!

The Party Queen, here (you can call me PQ)! I'm so excited to be your personal party planning pro; I'll be answering all your questions about throwing fantastic parties and special events, all while giving you great tips to make it easy and fun.
They call me The Party Queen around here for a reason: I'm passionate about helping people take a simple vision they have for a special event, then making that vision a reality and then some.
No topic is out of question. Through our blogging journey, we'll explore everything from party themes and accessories, to venues and tents; we'll answer tricky technical questions and (obviously) highlight all the fun stuff along the way, because no matter what work you put into planning a fantastic party, the ultimate goal is for everyone (including yourself) to have an amazing time.

Working with All Seasons Party and Tent Rental, I get a firsthand look at what kind of materials party planners are looking for to make their event flawless and what kind of trends are big in the special even industry. I also get to witness countless magical transformations to special event tents that you wouldn't believe!
Along with tips and tricks, look out for news and information straight from All Seasons including upcoming bridal shows we'll be attending (brides, you'll want to follow this blog!), as well as pictures from fabulous weddings and parties we've helped bring to the next level. Happy party planning, everyone!

Note from the editor: A special thank you goes out to our amazing artist, Cordell Cordaro, who created the beautiful portrait of TPQ you'll be seeing in her blog posts. It really gives you an idea of just how fabulous and glamorous a tent can be! Check out more of Cordell's stunning artwork at www.cordellcordaro.com.
---
How to Plan a Fantastic Last-Minute Holiday Party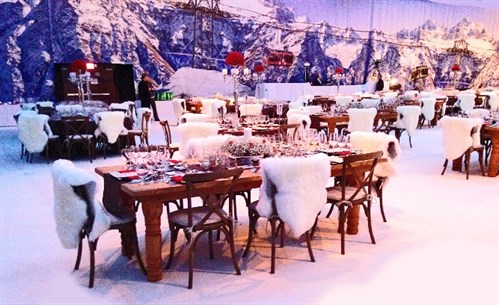 The holiday season is here and if you haven't already, now is definitely the time to start planning the most fabulous party ever! The best holiday parties are creative, entertaining and the venues are always adorned in the most festive decorations. Great food and awesome dance music is also necessary if you want your guests to remember this event for years to come.
Here are some suggestions for throwing the holiday party of the year that will leave all of your friends and family talking about it for years to come:
Make a List
Organization is key. Make lists of all of your ideas, and all of the vendors and supplies you will need to make it all happen. If you need help, now is the time to reach out and ask, so that you will know who is available. It is easiest to assign tasks and give yourself and everyone else a deadline. Remaining cool and as organized as possible will help planning your holiday bash run smoothly.
Contact Your Vendors
Throwing a huge holiday party will definitely require some major help from vendors. Decide if you will need extra seating and dining tables, tents, lighting, linens, and silverware. If you have a color theme, your vendor should know about this so that they can consult with you to pick out the perfect linens, plates, and other decorations for the event.
Buffet or Dinner Service
If you are having a more casual event where guests will participate, a buffet-styled dinner works just fine. You will need to discuss how many chafing dishes, warmers, portable ovens or grills you will need to accommodate your guest list and your menu. If your fabulous party is a more formal, sit-down event, let your vendor know that, too, and they will know exactly what equipment you will need and how many servers will be required to keep everyone happy and in the holiday spirit.
Consider Location and Weather
In many parts of the country like Western New York, it's a chilly, cold and snowy time of year; but if you dare to have a winter wonderland party, outdoor heating is an option. Consult with your vendor or Rental Company about ways you can keep your party tents warm during the event. With the proper tenting, warm candles and lighting, and a bit of warm mulled wine, the guests may not even notice the chill.
Create an Awesome Dance Floor
Creating an area under your tents designated for dancing, is a great way to get everyone on the dance floor. Speak with your vendors and let them know that you want an area just for dancing. With the proper flooring, space, and lighting, you can have a holiday disco installed in no time. Designated dance areas encourage guests to get up and do their thing, without worrying about not having enough space, or bumping into people. Ask your vendor and party planners to make sure that your dance floor is spacious enough for the latest line dances!
---
The Best Way to Spend Your Black Friday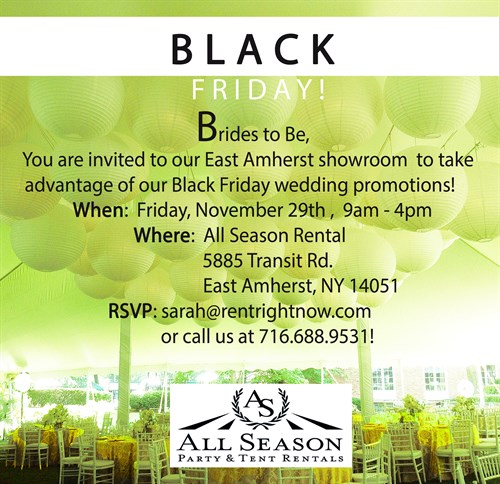 Black Friday. It is the best and worst day of the year for shopping. Yes, you receive fantastic specials and, let's face it, the holidays aren't getting any further away; on the other hand, you have to wake up earlier than you do for work just to get to a mall (it's hard to go to the mall as it is) that is going to be wall-to-wall packed with crazies all ready to trample someone for the toy of the year!
PHEW.
It's exhausting just talking about it! We get it, though. Money is tight these days and especially if you're planning your wedding, you always have your eyes out for a good deal and new ways to get the best for your special day, but for less (so you can get more, of course). If this sounds like where your head is at this Black Friday, we have just the place for you. We promise it won't be as exhausting and stressful as the mall, either.
Come visit us at our East Amherst showroom this Black Friday (November 29, 2013) and take advantage of the hottest wedding promotions of the year! Save big on specialty tables and chairs, beautiful linens and so much more for your big day! RSVP to [email protected], call us at 716-688-9531 or visit our Facebook page invite by clicking below. Happy holiday/wedding shopping, everyone!
---
The Perfect Wedding Party Rentals [Infographic]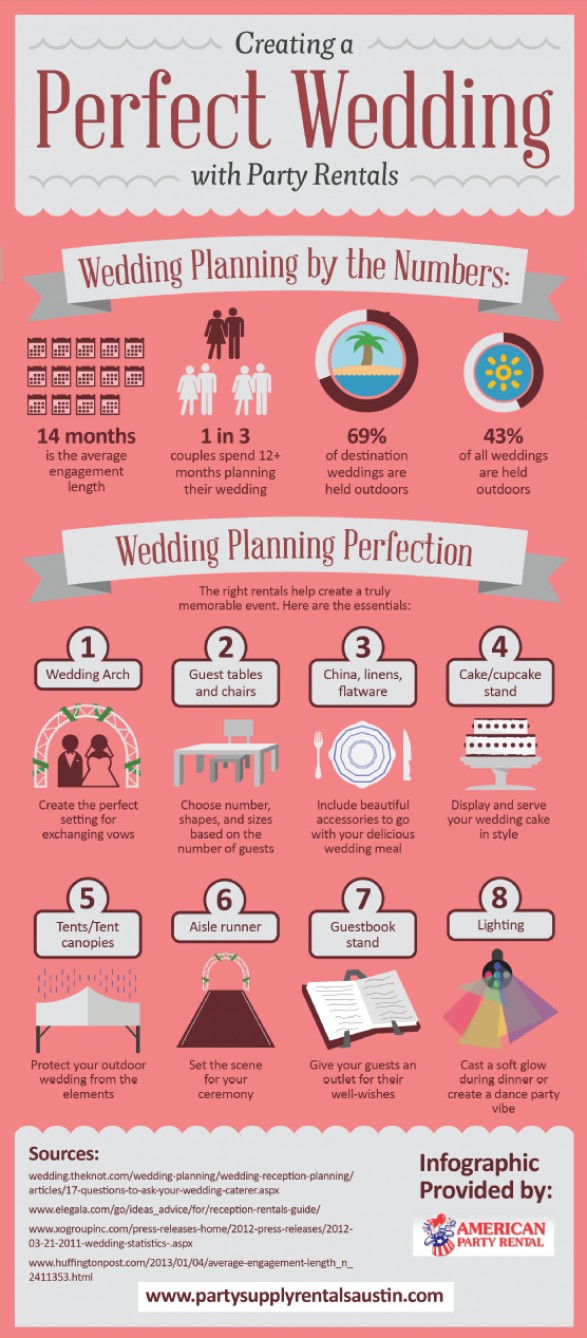 There are many elements that all come together to create a perfect event. No detail is wasted, no matter how small - especially at a wedding. Your wedding is a chance for you to hold an extravagant event for all your closest friends and family. There will certainly be other events you'll cater to throughout your life, but none as detailed as your wedding day. If you're planning a wedding now, or are expecting to in the future, it's important to know what kind of rentals you'll be investing in. Here are items that will fully enhance certain elements of your wedding day that you should be sure to consider:
Fine china -While some may think a plate is just something for your food to sit on, they are much more than just a seat for your meat. Chefs spend a lot of time deciding on the perfect plating and cutlery to present their masterful culinary creations on. The plates are essentially the canvas for their masterpieces. By investing in renting fine china and flatware, you're going to take your guests' dining experience to the next level.
Chairs and Furniture - To go with the dining experience, not only should you consider what you're putting in front of your guests, but what you're putting underneath them! The chairs and other furniture you rent are extremely important. There is, of course, the comfort factor; your guests are going to be sitting for an extended timeframe. The look is also important; you want your guests to feel like they're in a classy environment. The furniture is going to help create that atmosphere for you.
Lighting - To take the ambiance of your event up a notch, lighting is a necessity. Nothing sets the mood like lighting. It has the ability to transform the mood of any environment from a bright and uptight one, to a dark and intimate one.
Tents -We know all too well how important it is to rent a tent for any events. They're so versatile. Whether you're planning an outdoor wedding, or want to create your own custom event venue with an enclosed double-decker tent, it's no secret, tents have the ability to create an atmosphere for your event that your guests may have never seen before.
Even the smallest details go a long way when your wedding comes together. It doesn't matter if you're choosing your silverware or your venue, it's important to consider the big picture. Taking each aspect of the event and watching it all come seemlessly together to make the event a true and memorable success is a fun and rewarding experience for all involved! Happy wedding and event planning!
Explore more infographics like this one on the web's largest information design community - Visually.
---
Buffalo Brides, Don't Miss The Little White Dress Event!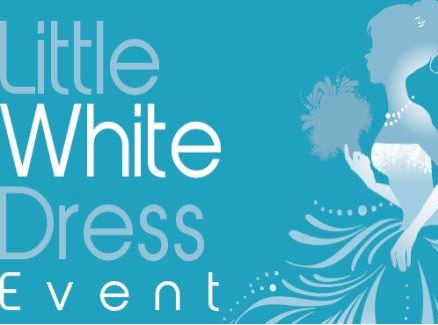 The only thing more exciting than a wedding-planning event is a FREE wedding-planning event! Luckily for all upcoming brides in the Buffalo area, BuffaloBrides.com is presenting a fabulous Little White Dress event on Wednesday, November 6th, 2013. All Seasons Party & Tent Rental, along with more of Buffalo's best wedding vendors, will be attending the event to meet with you and let you know how we can help you special day become a dream come true. You can also be entered to win fantastic prizes the entire night.

Gather your bridesmaids, family and friends and come plan, mingle, and enjoy this event for free. During the event you'll enjoy hors d'eouvres and other light refreshments. There will also conveniently be a cash bar if you're group is interested in unwinding with a couple adult beverages! To help enhance the theme of the night, white dress attire is strongly encouraged.

Who: BuffaloBrides.com and Buffalo, NY's best wedding vendors!
What: The 2013 Little White Dress Event
When: November 6th, 2013 from 5:30 p.m. until 8 p.m.
Where: Shea's Performing Arts Center

We can't wait to meet and speak with each of you beautiful brides out there. All Seasons has tons of ideas and supplies to help create a beautiful wedding environment. Now all we need is your imagination! For more information on the Little White Dress event, or to RSVP, call 716-849-5522 or email [email protected]. Don't wait - the first 100 brides-to-be to RSVP will receive a free bridal survivor kit!

Also be sure to visit BuffaloBrides.com and the Little White Dress Event's Facebook page for to connect with other brides and learn more about the event. See you all there!
---