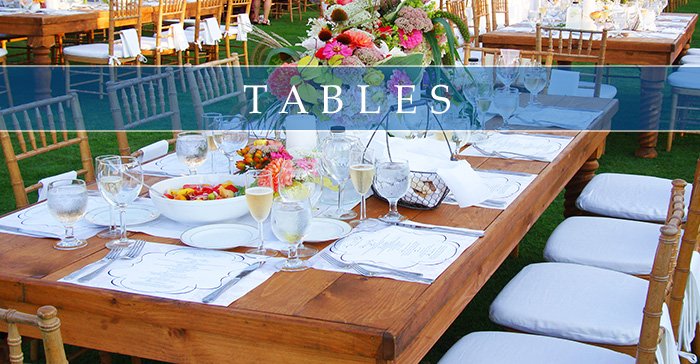 ONCE YOU'VE PICKED OUT THE PERFECT TENT FOR YOUR EVENT, YOU NEED TO CHOOSE THE RIGHT SIZE AND SHAPE OF TABLE TO TAKE ADVANTAGE OF YOUR EVENT SPACE.
At All Season & Hank Parker's Party & Tent Rental, we can help you make the most of any space with any number of table configurations.
Whether you need round, half-round or rectangular tables, we have options that are perfect to fill a ballroom, or cocktail tables for a more social gathering. We offer specialty tables including picnic tables for more casual outdoor events and serpentine tables for customizable seating. We also have heart-shaped tables, lighted tables or farm tables for themed events.
Our rental services in Buffalo, New York can get you one-step closer to planning your seating charts for your big day. Click on our table categories below and add to your cart. You can also call or visit our showrooms to check out our tables.
All Season & Hank Parker's Party & Wedding Tent Rental Offers Tents, Tables, Chairs, Linens, Lighting & More. Servicing events in Buffalo NY, Rochester NY & Beyond.