The Best Way to Spend Your Black Friday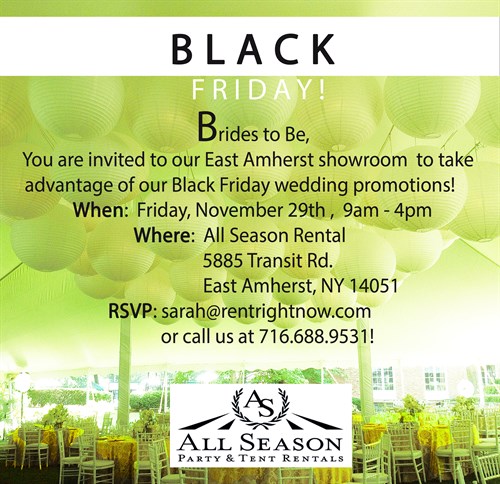 Black Friday. It is the best and worst day of the year for shopping. Yes, you receive fantastic specials and, let's face it, the holidays aren't getting any further away; on the other hand, you have to wake up earlier than you do for work just to get to a mall (it's hard to go to the mall as it is) that is going to be wall-to-wall packed with crazies all ready to trample someone for the toy of the year!
PHEW.
It's exhausting just talking about it! We get it, though. Money is tight these days and especially if you're planning your wedding, you always have your eyes out for a good deal and new ways to get the best for your special day, but for less (so you can get more, of course). If this sounds like where your head is at this Black Friday, we have just the place for you. We promise it won't be as exhausting and stressful as the mall, either.
Come visit us at our East Amherst showroom this Black Friday (November 29, 2013) and take advantage of the hottest wedding promotions of the year! Save big on specialty tables and chairs, beautiful linens and so much more for your big day! RSVP to sa[email protected], call us at 716-688-9531 or visit our Facebook page invite by clicking below. Happy holiday/wedding shopping, everyone!