How to Plan a Fantastic Last-Minute Holiday Party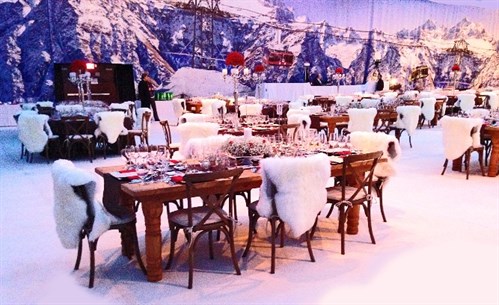 The holiday season is here and if you haven't already, now is definitely the time to start planning the most fabulous party ever! The best holiday parties are creative, entertaining and the venues are always adorned in the most festive decorations. Great food and awesome dance music is also necessary if you want your guests to remember this event for years to come.
Here are some suggestions for throwing the holiday party of the year that will leave all of your friends and family talking about it for years to come:
Make a List
Organization is key. Make lists of all of your ideas, and all of the vendors and supplies you will need to make it all happen. If you need help, now is the time to reach out and ask, so that you will know who is available. It is easiest to assign tasks and give yourself and everyone else a deadline. Remaining cool and as organized as possible will help planning your holiday bash run smoothly.
Contact Your Vendors
Throwing a huge holiday party will definitely require some major help from vendors. Decide if you will need extra seating and dining tables, tents, lighting, linens, and silverware. If you have a color theme, your vendor should know about this so that they can consult with you to pick out the perfect linens, plates, and other decorations for the event.
Buffet or Dinner Service
If you are having a more casual event where guests will participate, a buffet-styled dinner works just fine. You will need to discuss how many chafing dishes, warmers, portable ovens or grills you will need to accommodate your guest list and your menu. If your fabulous party is a more formal, sit-down event, let your vendor know that, too, and they will know exactly what equipment you will need and how many servers will be required to keep everyone happy and in the holiday spirit.
Consider Location and Weather
In many parts of the country like Western New York, it's a chilly, cold and snowy time of year; but if you dare to have a winter wonderland party, outdoor heating is an option. Consult with your vendor or Rental Company about ways you can keep your party tents warm during the event. With the proper tenting, warm candles and lighting, and a bit of warm mulled wine, the guests may not even notice the chill.
Create an Awesome Dance Floor
Creating an area under your tents designated for dancing, is a great way to get everyone on the dance floor. Speak with your vendors and let them know that you want an area just for dancing. With the proper flooring, space, and lighting, you can have a holiday disco installed in no time. Designated dance areas encourage guests to get up and do their thing, without worrying about not having enough space, or bumping into people. Ask your vendor and party planners to make sure that your dance floor is spacious enough for the latest line dances!